Products List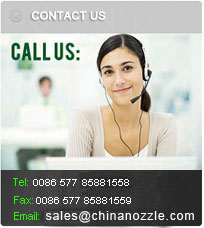 Products List
TDW-11B Automatic nozzle
Product Overview:
TDW-11B Pressure-Sensitive Automatic Nozzles
Designed specially for self-service prepay or card-lock systems to help prevent gasoline spills.The TDW 11B nozzles cannot be opened until the pumping system is pressurized, and closes automatically when the pressure is removed. This means the TDW 11B is closed when placed back in the dispenser storage position.

Features and Benefits:
Ø One-piece spout-Innovation design eliminates possible leak points, is lighter in weight and interchangeable with TDW 11A series spouts.
Ø "Accu-Stop" flow control-Allows your customers to top off their tanks to the exact amount they want, and easy to stop flow accurately.
Ø Flow Lock-Designed to shut-off automatically when the spout is tipped up, limiting spillage.
Ø Hold-open rack is available for full-service applications-the one-hand control means easy setting to flow rate for customer convenience.
Ø Blocker on lever guard- to help prevent the nozzle from being jammed into open position with a foreign object.
Ø Low reliable shut off- Specially designed to ensure proper shut-off as low as 3 gallons per minute.
Ø Exclusive two-stage lever assembly- provides a positive shut-off, even if held in wide open position by user.
Ø Suitable for diesel, kerosene, gasoline and gasoline with ethanol blends.
Ø 100% Factory Tested.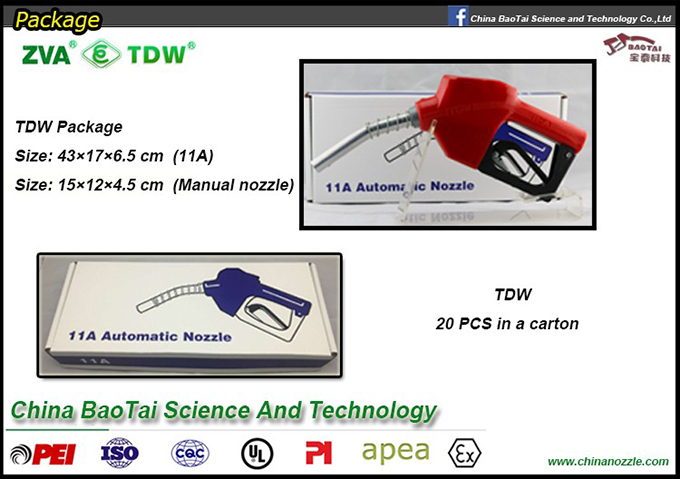 You may like our other automatic nozzles. (Click)
Material
Body
Aluminum
Lever and lever guard
Duratuff
Main stem
Extra hard stainless steel
Seals
Buna-N, Viton
Technical Specifications

Auto shut off sensibility

0.1 Second

Working Pressure

0.2 Mpa

Inlet Size

3/4"

Thread

NPT/BSPT

Spout Outlet Diameter

15/16",13/16"

Flow Rate

18-60 L/m(15/16"), 15-40 L/m(13/16")

Net Weight

1.22KG

Ordering Specifications:

Item No.

Inlet Thread

Spout O.D.

TDW-11B01

3/4" NPT

13/16"

TDW-11B02

3/4" NPT

15/16"

TDW-11B03

3/4"BSPT

13/16"

TDW-11B04

3/4"BSPT

15/16"
Color Options
Red, Green, Blue, Yellow, Black
Package Data

Size

Weight

1pcs = 43*17*6.5 cm (box)
1.35 kg
20pcs = 0.1 club (carton)
13.8 kg